Cooking and shipping from our pot to your door since 2014.
Thanks for helping us grow. – the
HAPPIE Chicks
Edisto Beach, SC
Our Featured Family Of Boiled Peanuts
We package our peanuts in multiple 2lb. bags to make them easy to share or freeze for later if sharing isn't your thing
Classic Southern Jumbos
The original must-haves. Perfectly soft, never too salty. These are what other boiled peanuts aspire to be.
2 x 2lb Bags Southern (4 lbs total)
$24
Low Salt
These are the quieter siblings to our originals. Still that same great classic, we just hold off a bit on the salt part of the recipe and add citrus so they are still full of flavor.
2 x 2lb Bags Low Salt (4 lbs total)
$25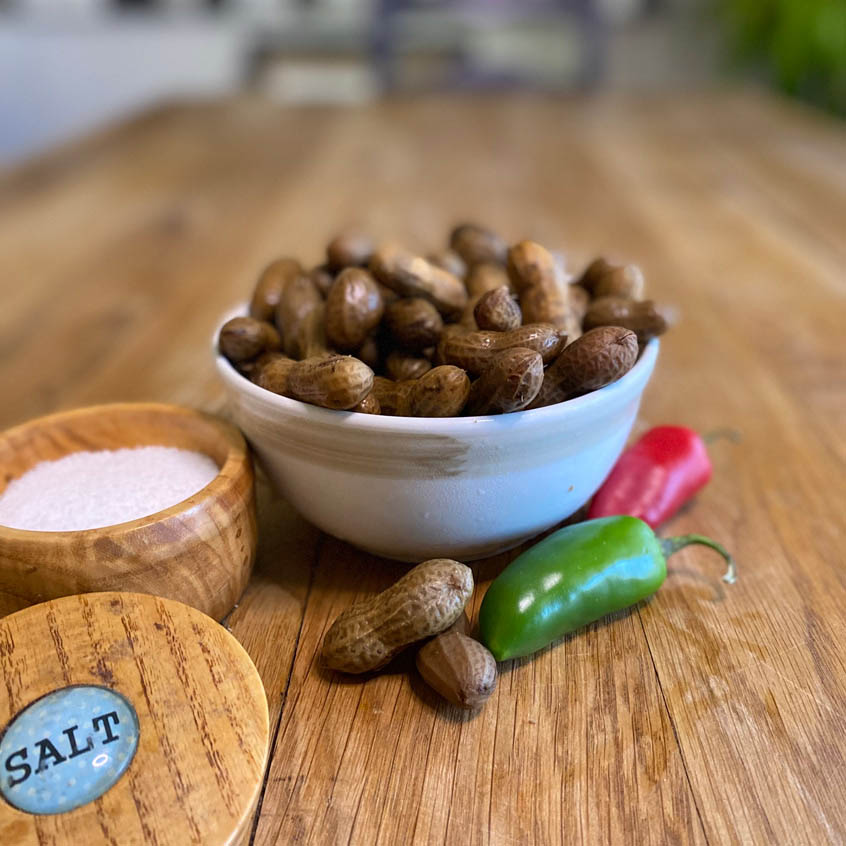 Spicy Habanero
In every family, there is always a troublemaker. We take our classic southern and dress it up with an extra kick and lingering heat that will keep building as you snack. They're as fun to cook as they are to eat.
2 x 2lb Bags Spicy Habanero (4 lbs total)
$25
Sometimes More IS Better…
For folks who like to spice things up with variety, we offer even more flavors and combos below
Special of the Day
$6 Savings – limited time offer
4 X 2lb Bags Southern (8 lbs. total – $48 value)
$42
Featured Flavor
HOLIDAY SPECIAL
Classic (Salted) Jumbos 6 lbs 
Though this isn't a new flavor, it is a new offer.  Buy 2 bags of our Classic (Southern) Jumbos at the featured flavor price and get a 3rd bag on us for no additional product or shipping charge for the BONUS bag.  HAPPIE Holidays!
$26
Southern Comfort
3 x 2lb Bags Southern (6 lbs total)
+Stone Ground Grits (milled locally)
$40
4 Nuts in a Box
2lb Southern + 2lb Habanero + 2lb Low Salt + Bag of Roasted
$38
Peanut Party Pack
2 x 2lb Southern (4 lb total) + 2lb Habanero
+ 2 Bags of Roasted Peanuts
$44
Chef's Choice
A 4 bag mix that could include the original Jumbos, Spicy Habaneros, Little Hotties, and/or a new featured flavor. Only for the adventurous. No subs or take backs 🙂    
$44
Make It A Gift Or Care Package
Send a taste of the South to homesick students, transplanted Southerners or friends and family who have acquired a taste for this Southern delicacy but can't get good fresh boiled peanuts in their area. Simply order the peanuts of your choice and add your gift wrap or message option at checkout. Sending multiple gifts? We make it easy. Once you complete an order for one address, you can quickly use our convenient "New Order" button to create a new order to send to another lucky recipient.
CHARLOTTE and the HAPPIE Truck
(1st Edition / Hard Cover)
Based on the true story of Charlotte, the lonely rescue dog, and the valuable lessons she learned when she moved to a small beach town to be adopted by an ice cream truck.
$20
When Donkeys Fly
(1st Edition / Hard Cover)
When Donkeys Fly teaches children, and the adults in their lives, that no matter who they are or what others may say, anyone can go anywhere and do anything as long as he or she believes.
$20
Visit Our HAPPIE Truck
Visiting Edisto Beach, SC?  Be sure to listen for the HAPPIE Truck and enjoy our famous boiled peanuts or choose from a wide variety of classic ice cream and other frozen treats straight from our truck.
Best way to catch us?
Email your street address or beach access to happietruck@gmail.com to find out the next time we will be rolling down your street…
Last summer I brought 2 lbs. of boiled peanuts from a rather famous peanut stand in Charleston with me to Edisto Island. When I got to the beach, I tried Ginger and Jill's (The HAPPIE Chicks') peanuts, and found they were by far the freshest I have ever tasted… best I've ever had. Their peanuts are nicely salted and not covered in the slime I find many boiled peanuts have. Try them and you will be glad you did.
I thought I had eaten really good boiled peanuts in my lifetime until the day I tried boiled peanuts from The HAPPIE Chicks. These peanuts are not only juicy and flavorful, they are really big with no duds in the batch. In short, The HAPPIE Chicks' Boiled Peanuts are superb and not to be missed.
Henry W., Edisto Beach SC
I fell in love with boiled peanuts during my college days at the Citadel but no one sells them here in Pittsburgh. Every year when we vacation in SC, I stock up but my family eats them all on the drive home. This summer, I discovered The HAPPIE Chicks' Boiled Peanuts. They are the big jumbo good ones that are so hard to find. Now, I have them delivered to my house and they are just as fresh and flavorful I as when I bought them on the island. And, since orders come packed in 2 packages, I even get my own bag!
Be a VIPeanut
Subscribe here to get the inside scoop
Members get first dibs on featured specials, new flavors, random pictures of our dog and an occasional HAPPIE thought to help brighten any day.